Askar Mamin meets with Deputy Prime Minister of Qatar Hamad bin Abdulaziz al-Kawari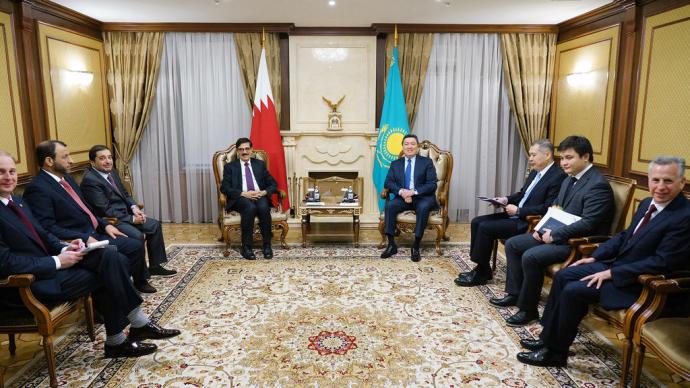 Prime Minister Askar Mamin held talks with Qatar Deputy Prime Minister Hamad bin Abdulaziz al-Kawari.
"Qatar is an important political partner of Kazakhstan in the Arab world. A confidential and open political dialogue has been established between our countries, founded by the First President of Kazakhstan – Elbasy Nursultan Nazarbayev and the senior leadership of Qatar. The Head of State Kassym-Jomart Tokayev, adhering to the continuity in foreign policy, pays great attention to the development of cooperation with Qatar," Mamin said.
The head of government noted the existence of significant potential for enhancing cooperation in trade, economic, investment, cultural and humanitarian and other fields.
A visa-free regime was established between the countries; in December of this year, it is planned to launch direct flights between Nur-Sultan and Doha. In the future, regular flights will be operated 7 times a week not only between capitals, but also between Almaty and Doha, as well as 7 cargo flights a week with a fifth degree of "air freedom" within the framework of the introduced open skies regime in Kazakhstan.
The parties discussed the prospects for bilateral cooperation in the tourism, transport sectors, healthcare, education and other fields.
Source: primeminister.kz