Askar Mamin opens forum "Space Days in Kazakhstan: Baikonur – the Cradle of World Cosmonautics"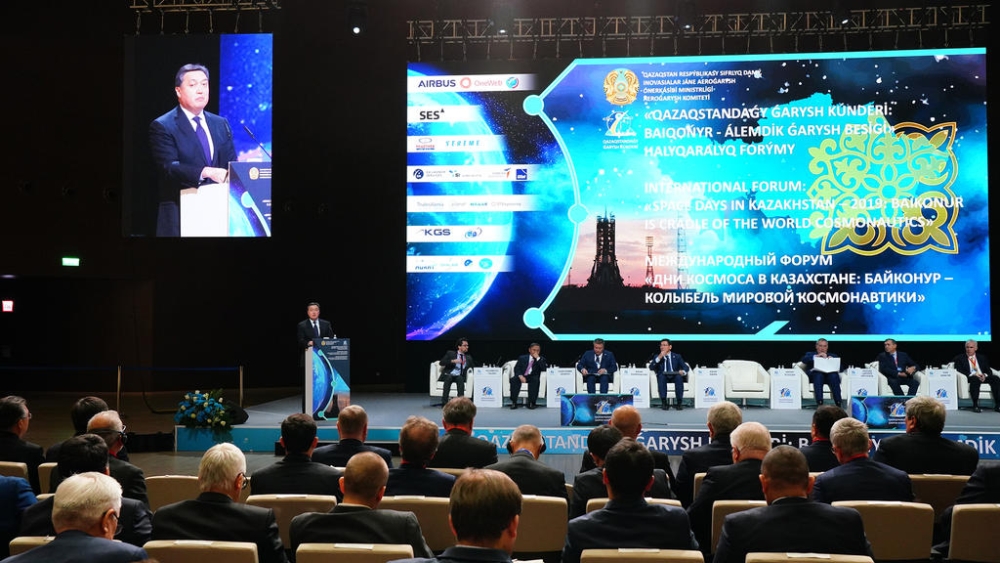 Prime Minister Askar Mamin attended the opening of the forum "Space Days in Kazakhstan: Baikonur – the Cradle of the World Cosmonautics."
The prime minister held meetings with the Head of the Roscosmos Dmitry Rogozin and Chief Financial Officer of One Web Thomas Whayne, with whom he discussed the development of the space industry in Kazakhstan.
"Elbasy Nursultan Nazarbayev and President Kassym-Jomart Tokayev pay special attention to the development of the infrastructure of the Baikonur Cosmodrome and its modernization in accordance with advanced standards," Mamin said at the opening of the forum.
The head of government noted that the first cosmodrome of the world is on the eve of a new stage of its development, which requires the consolidation of forces, ideas, and partnership support.
"In the framework of cooperation between Kazakh and French enterprises, the creation of the Assembly and Testing Complex for spacecraft, which will allow the assembly and testing of satellites for various purposes, is nearing completion in our capital, Nur-Sultan. This project is designed for stable and long-term Kazakh-French industrial cooperation," Mamin said.
The prime minister emphasized that Kazakh enterprises and departments are actively working with space organizations in the UAE, Turkey, the USA, Jordan, South Korea, Ukraine, Great Britain, Japan, China and many other countries. In the near future, cooperation is expected to develop on the exchange of Earth remote sensing data, on the joint production and commercialization of satellite constellations of Earth remote sensing.
"We are open to industrial cooperation for the production of a communications satellite, joint investment commercial projects at the Baikonur cosmodrome," said Mamin.
The head of government informed the forum participants about plans to increase financing of space communication systems and remote sensing systems of Kazakhstan to $300 million, including with the involvement of private capital. In the near future, a large-scale project will begin to create the Baiterek environmentally friendly space rocket complex at the Baikonur Cosmodrome, which was renamed the Nazarbayev Launch on the initiative of the Russian side.
"The project on modernization of launch pad No. 1 'Gagarin launch' at the Baikonur cosmodrome is being worked out," Mamin said.
The Space Days in Kazakhstan International Forum has been held annually since 2013. 650 participants from more than 25 countries of the world take part in this event. They are the heads of the Ministry of Digital Development, Innovation and Aerospace Industry of Kazakhstan, deputies of the Senate and the Majilis of the Parliament of Kazakhstan, Kazakh cosmonauts, representatives Embassies of foreign states, such corporations as Roscosmos, Airbus Defense and Space, such domestic and foreign organizations as Khrunichev State Research and Production Center, JSC Academician Reshetnev Information Satellite Systems, Transtelecom, One Web, Thales Alenia Spac, SES, Leica Geosystems, Satrec Initiative, Eutelsat, etc.
Source: primeminister.kz