13 memorandums worth $ 859.7 million signed at the Jetіsý Invest forum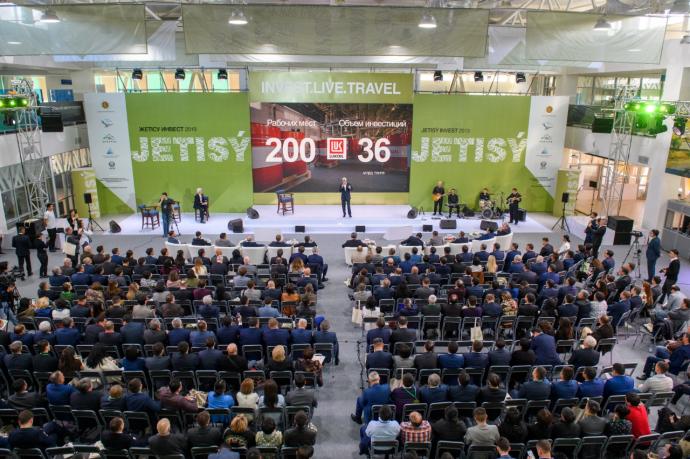 An international business forum Jetisy Invest-2019 took place in Taldykorgan, Almaty region. The event was attended by the Deputy Minister of Foreign Affairs Ermek Kosherbayev, Akim of Almaty Region Amandyk Batalov, Deputy CEO of KAZAKH INVEST Birzhan Kaneshev as well as over 400 representatives of the diplomatic corps, financial organisations and international and local business circles from 7 countries.
The forum participants signed commercial agreements for 13 projects worth $ 859.7 million.
The Akim of Almaty region Amandyk Batalov noted that despite the global economic crisis and general decline in investment inflows, domestic investments grew by 27% in Almaty region between 2014 and 2016. In 2018, the Almaty region was Kazakhstan's leading region in terms of attracting foreign investments. Volume of investments in the region has been growing annually by 20% since 2016.
In turn, the Deputy CEO of KAZAKH INVEST Birzhan Kaneshev emphasised the importance of favourable investment climate in the country: "The Government carried out a number of reforms to improve the country's investment climate by introducing and implementing global best practices. Today, we have a three-level system for supporting foreign investors, including Kazakhstan's representative offices abroad at the external level, KAZAKH INVEST at the central level and regional front offices operating on the "one-stop shop" basis.
The representatives of large and multinational companies, such as Leroy-Merlin, Mareven Food, Waste Energy KZ, ArKazInvest and others shared about their successful experience in the region.
During the forum, it was noted that the region is suitable for implementation of renewable energy projects. Thus, 24 out of 74 renewable energy projects in Kazakhstan operate in Almaty region. One of the projects, Kazakhstan's largest solar power plant with a capacity of 100 MW, was implemented with participation of a major investor from Singapore - Universal Energy and launched in September. Next year, the same company plans to launch a solar and a wind power plants with a capacity of 50 MW each. In addition, another 28 renewable energy projects are at different stages of implementation.
Currently, KAZAKH INVEST project pipeline includes 34 projects worth $3.8 billion in Almaty region. Of these, 12 projects are at the construction stage and 22 - at the development stage. By end of the year, there are plans to implement 10 projects resulting in creation of 1200 jobs.