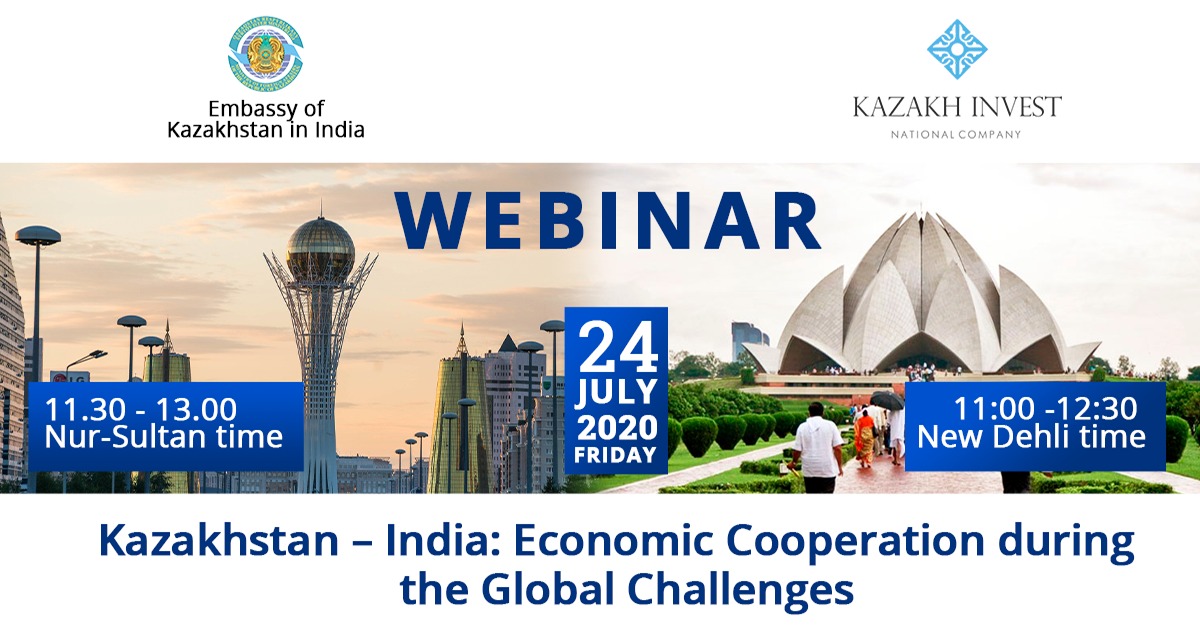 Webinar «Kazakhstan – India: Economic Cooperation during the Global Challenges»
Nur-Sultan city, Kazakhstan
Download program
We are pleased to inform you that the webinar «Kazakhstan – India: Economic Cooperation during the Global Challenges» will take place at 11:00 a.m. (New Dehli time) on 24 July 2020 (Friday). The webinar is organized by the Embassy of the Republic of Kazakhstan to India and KAZAKH INVEST.
Kazakhstan is the largest economy in Central Asia and the leader in terms of attracted foreign investments in the region. What is the country's experience in diversifying economy and overcoming the current global challenges? How can investors from India leverage on the new opportunities?
The webinar will cover the latest developments in Kazakhstan's business environment and investment opportunities stemming from the Government's push to fulfil the potential of major domestic industries.
Speakers will present investment projects in various areas areas, including agribusiness, mining, petrochemicals, pharmaceuticals and many more.
It would be an honor for us to have you amongst the participants of the webinar! Join the discussion and discover the new opportunities that Kazakhstan has on offer.
JOIN THE WEBINAR:
https://us02web.zoom.us/j/81190923018?pwd=UjVFSkpxTlU5R1lhbCtxL1k1bjJOdz09