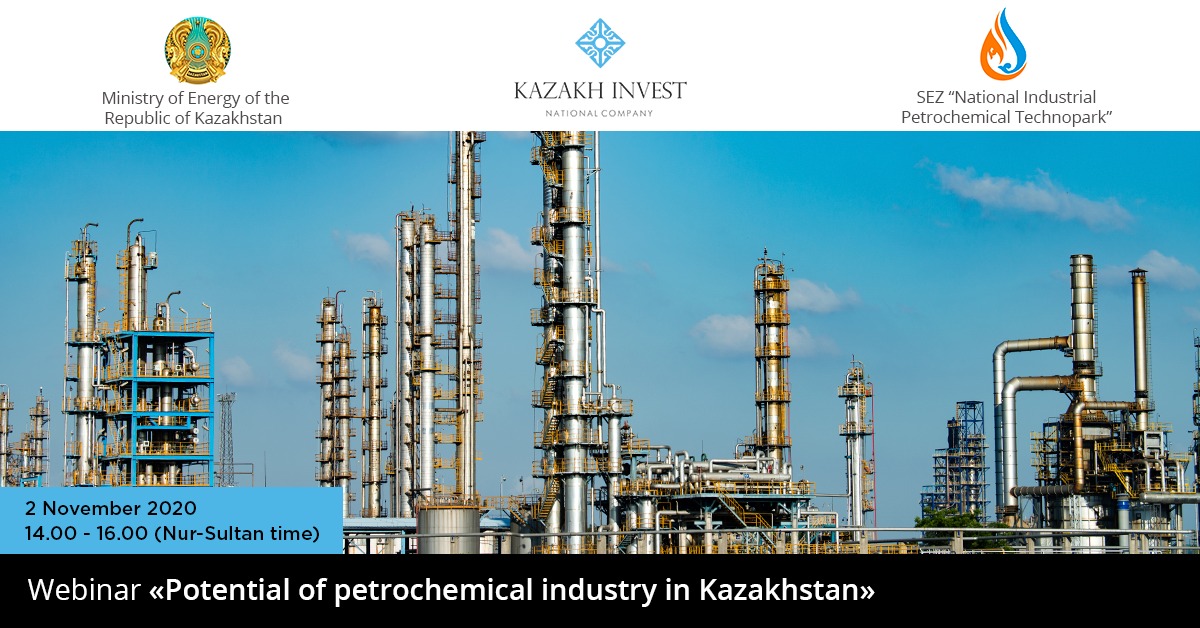 Webinar «Potential of petrochemical industry in Kazakhstan»
Nur-Sultan city, Kazakhstan
Programm
The development potential of the petrochemical industry in Kazakhstan is very high. Being in the Top-20 leaders in hydrocarbon reserves globally, the country has every chance not only to produce petrochemicals to meet internal demand, but also to export them to foreign markets.
In the future, the petrochemical industry is expected to be one of the driving factors of Kazakhstan's economy diversification and production of high-added value goods.
We cordially invite you to participate in the webinar "Potential of the petrochemical industry in Kazakhstan". The webinar includes discussions on the investment opportunities of the industry as well as the Q&A session.
The purpose of the webinar:
Clarification of the investment policy and discussion of issues related to investments in the petrochemical industry of the Republic of Kazakhstan.
Date: 2 November 2020
Time: 14.00 - 16.00 (Nur-Sultan time)
Working language:
Russian and English with simultaneous translation
For registration in ZOOM: https://us02web.zoom.us/webinar/register/3816024898394/WN_ljooN2VnQGyuxGpTVQif1g

For live video streaming on YouTube: https://www.youtube.com/channel/UCqma9_DmADVBosiarCSpIRQ
Note: The first 100 participants can participate in the webinar on the ZOOM platform. Also, questions can be asked during live streaming of the webinar on KAZAKH INVEST YouTube channel.