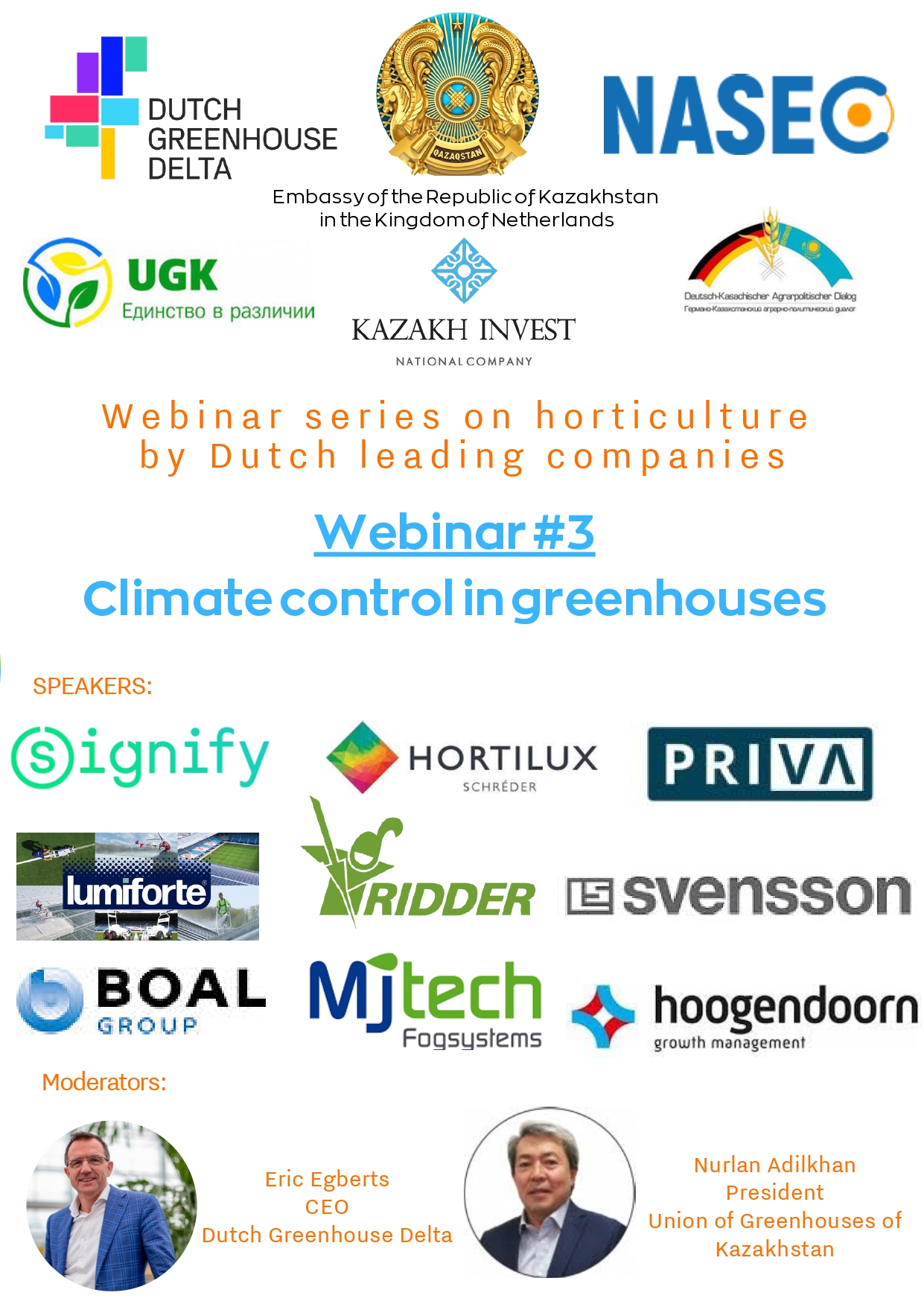 Webinar on the topic «Climate control in greenhouses»
Dear Kazakhstanis, we invite you to take part in a unique webinar on the topic «Climate control in greenhouses».
Date: March 16 at 5 pm. (Nur-Sultan time).
Speakers: experts from world leading companies Boal Group, Lumiforte, Signify, Hortilux, Ridder Group, Ludvig Svensson, Hoogendoorn, MJ Tech, Priva.
Moderators: CEO of Dutch Greenhouse Delta - Eric Egberts and President of the Union of Greenhouses of Kazakhstan - Nurlan Adilkhan.
Venue: ZOOM online platform, to join the webinar please follow the link https://us06web.zoom.us/
Webinar organized by NASEC and Dutch Greenhouse Delta with the support of the Embassy of Kazakhstan in the Netherlands, Kazakh Invest, the German-Kazakhstan Agrarian-Political Dialogue and Union of greenhouses of Kazakhstan.
For reference: A series of webinars is organized free of charge based on a memorandum between NASEC and Dutch Greenhouse Delta dated June 3, 2021.
The National Agrarian Research and Education Center, a non-profit joint-stock company (NASEC) - is a single operator of sustainable interaction of scientific and educational institutions of the agrarian sphere of Kazakhstan with the state and business. NASEC's mission is to promote the innovative development of the agro-industrial complex of the Republic of Kazakhstan by increasing the practical effect of agricultural science and providing the agricultural industry with highly qualified personnel.
Dutch Greenhouse Delta (DGD) aims to promote the Dutch horticultural sector worldwide. DGD is the one-stop shop for complex, large-scale projects concerning food and floriculture issues in growing megacities. By working together with Dutch state-of-the-art partners in horticulture, DGD brings an integrated Fork2Farm solution that offers a complete eco system consisting of science, enterprise, education, and the government.