President Kassym-Jomart Tokayev meets with Amir of the State of Qatar Sheikh Tamim bin Hamad Al Thani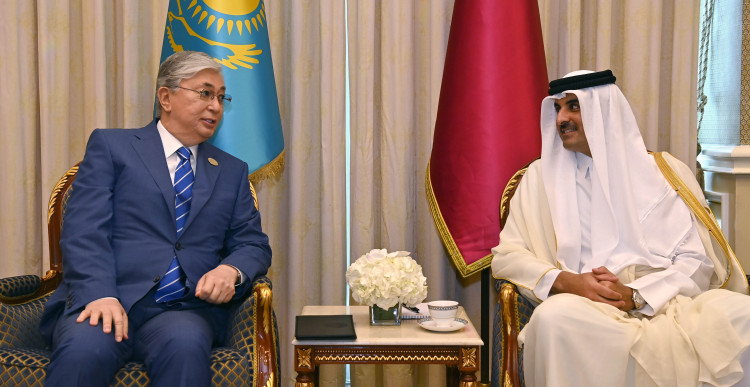 Doha, State of Qatar
During the meeting, Kassym-Jomart Tokayev and Sheikh Tamim bin Hamad Al Thani thoroughly discussed the current state and prospects for the development of Kazakh-Qatari cooperation.
The two leaders reaffirmed their mutual desire to strengthen trade and economic ties and implement joint investment projects.
Kassym-Jomart Tokayev expressed gratitude to the Amir of Qatar for the invitation and warm welcome.
Speaking about the prospects of economic cooperation, President Tokayev stressed the importance of increasing mutual trade between the two countries.
The President noted great opportunities for strengthening relations between Kazakhstan and Qatar in areas of mutual interest. He proposed to intensify cooperation between the governments and business circles of the two countries.
"We have a number of investment projects that we are ready to discuss with you today. In this direction, Kazakh companies intend to work closely with the Qatari business," the Head of State stressed.
Kassym-Jomart Tokayev invited Sheikh Tamim bin Hamad Al Thani to make an official visit to Kazakhstan at a convenient time for him.
In turn, the Amir of Qatar expressed Doha's interest in developing multifaceted economic and investment cooperation with Kazakhstan.
"Kazakhstan's participation in today's economic forum is a great honor for me. We have a very good relationship of trust and we are open to implementing joint projects, especially in agriculture. This direction is a priority for our country. We will soon send a special group to discuss in detail joint projects in the agricultural sector," the Amir of Qatar said.
At the end of the conversation, Sheikh Tamim bin Hamad Al Thani expressed gratitude for the invitation and confirmed his intention to pay a visit to Kazakhstan in the near future.
Source: Official website of the President of the Republic of Kazakhstan