Europe's largest manufacturer of agricultural equipment considers launching production in Kazakhstan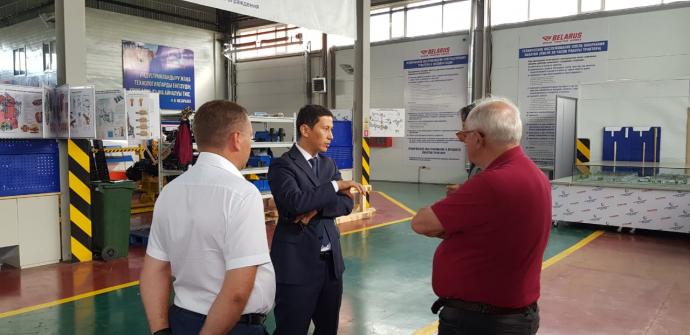 Alpego, the largest producer of agricultural machinery in Europe, is considering the possibility of establishing production in Kazakhstan. Investors expressed their intentions during the visit to Kostanay region.
During the visit, regional representatives of Kazakh Invest organised a series of meetings with local agricultural producers, during which foreign investors made a presentation of their products.
In turn, representatives of AgromashHolding JSC and Composite Group LLP showed interest in establishing joint production: "We are interested in the proposals of colleagues from Italy. The company has more than 50 years of experience in this field. At this stage, we need to conduct a series of analyses. Based on the results, we will be ready to visit the main production plant in Italy for an inspection of production process and operation of equipment in the test fields of the company," - said the representatives of Kazakh companies.
Director of Kazakh Invest office in Kostanay region Beysen Zholboldiev noted that the representatives of Italian company are interested not only in selling products in Kazakhstan, but also in the export potential of the country: "Today investors are looking for a reliable local partner. They are ready to provide spare parts for further assembly in Kazakhstan. Their equipment is more expensive to compare with competitors. However, having studied the pricing of Kazakh market, investors are ready to reduce cost of the products. Importantly, the quality of European manufacturer's products is much higher. On top of that, Italians use intensive technologies for breaking up sediment and newest technologies for planting that increase fertility of soil," - he added.
Notably, Alpego manufactures all parts of equipment on their own site, i.e. total localisation is 100%. The company specialises in the production of ploughing equipment: ploughs, cultivators, rippers, combined seed drills, etc. Each year, excluding spare parts, the company produces up to 3,500 units of equipment. 65% of the total production is exported, while the remaining 35% serves the domestic market. The company has its own factories in Italy, France, Japan, Canada and the United Kingdom. The annual turnover of the company is over 40 million Euros.