KAZAKH INVEST signed a number of agreements with Chinese businessmen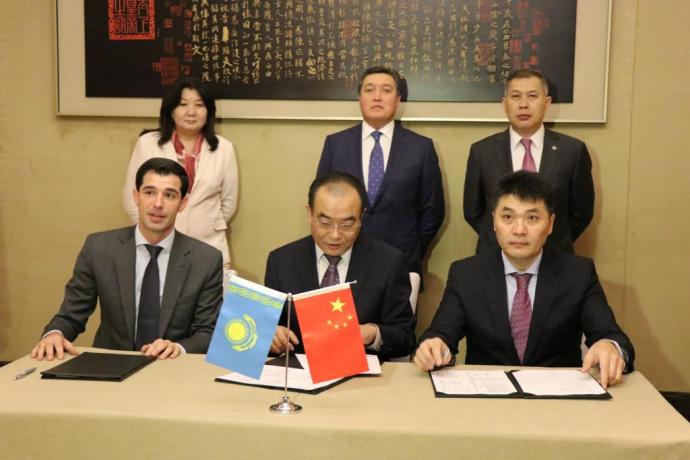 On September 25-26, 2018, the First Deputy Prime Minister of the Republic of Kazakhstan, Askar Mamin, made a working visit to the PRC. Within the framework of the visit, there were held business meetings with the management of leading Chinese industrial companies. As a result of the meeting, the Kazakhstani side, represented by the management of KAZAKH INVEST National Company JSC and Chinese businessmen, reached agreements on further steps in the implementation of projects and signed the corresponding road maps. In total, 18 business meetings were held during the visit and 4 documents on the implementation of projects were signed.
During the negotiation, Chinese businessmen expressed their desire to implement a number of investment projects in the field of energy, engineering, transport, logistics and agro-industrial complex in the near future. In particular, the Memorandum, signed the day before with the Chinese company HKC Corporation Ltd assumes the construction of a plant for the production of televisions on the territory of the industrial zone in the city of Kostanay. The total cost of the project is 50 million US dollars. It is also planned to organize the production of tractors and other LOVOL agricultural machinery on the basis of JSC Agromash Holding KZ.
Deputy Chairman of the Board of Kazakh Invest National Company JSC Birzhan Kaneshev in his speech expressed confidence in the successful implementation of the forthcoming projects and stressed the interest in further in-depth economic cooperation between the Republic of Kazakhstan and the PRC.
Representatives of the CITIC Envirotech company jointly with the Kazakhstani company Kazakhstan Water Solutions LLP, are implementing a project for the construction of a desalination plant in the Mangistau region. This project provides desalination and purification of groundwater, further used for drinking and technological needs. As part of the meeting with the management of the Chinese company, current issues of the project implementation and forthcoming plans were discussed.
There were discussions on issues in the field of solar energy development with the companies of the Canadian Solar and China Energy Engineering Corporation. The companies were invited to participate in the autumn session of bidding for the selection of SPP projects for 150 MW.