KAZAKH INVEST and Islamic Organization for Food Security signed a partnership roadmap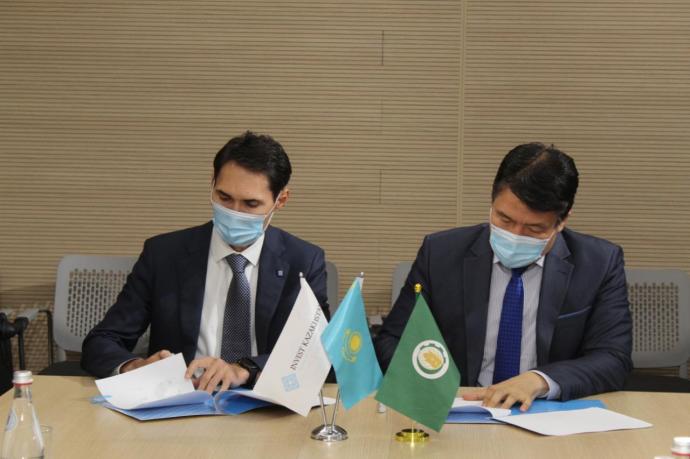 During the negotiations, the parties discussed a wide range of issues of bilateral cooperation aimed at developing investment projects, ensuring food security and promoting socio-economic development.
The Chairman of the Board of "KAZAKH INVEST" National Company" JSC Mr.Baurzhan Sartbayev emphasized that the crisis in the global economy associated with the pandemic has once again proved the importance of ensuring food security. This applies in particular to the regions with unequal access to food, existing issues of irrigation, and proper use of agricultural land. He also noted that KAZAKH INVEST constantly analyzes investment opportunities in Kazakhstan, identifying potential niches and projects that are attractive to investors. We are ready to offer potential investors specific projects in various industries, including the Agro-industrial complex, as well as provide support in their implementation. In this regard, given the enormous agro-industrial potential and transportation and logistics capabilities, it is advisable to consider the possibility of creating a regional food hub in Kazakhstan.
As the Director General of the Islamic Organization for Food Security Mr.Yerlan Baidaulet noted, taking into account the key role of "KAZAKH INVEST" in attracting investment and implementing projects, the possibility of cooperation in a number of important areas is being considered, such as the Program on Strategic Commodities, National reserve genetic banks, the creation of a Grain Fund, various projects for the production of Halal products, as well as cooperation in launching projects through the Islamic Food Processing Association.
As a result of negotiations, the parties signed a Memorandum of cooperation, including a partnership roadmap for attracting strategic investors to the agro-industrial sector of Kazakhstan.