The Head of State Held a Meeting with French Business Community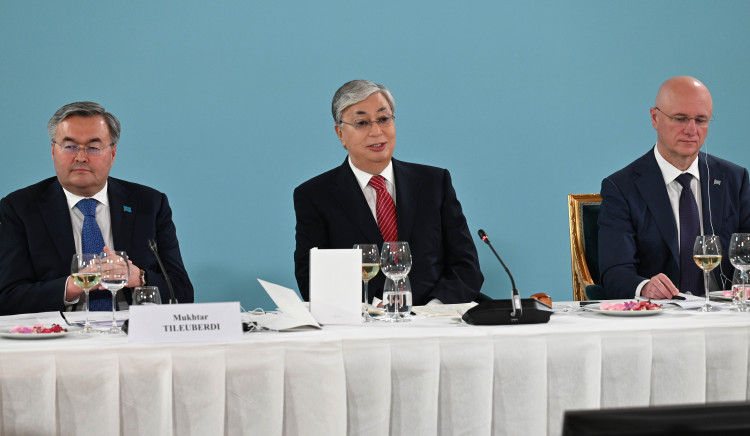 The event was attended by the heads of such large companies as Total Energies, Orano, Saint-Gobain, Boehringer Ingelheim France, Soufflet Group, BPI France, Air Liquide, Vicat, Syctom, Pellenc, livestock association FICT, Total Eren, PCM, Safran, Thales, Groupe EDF , Assystem, Alstom, Evolution International, MHB SAS, Exa International, Airbus, Rungis Semmaris, MBDA, SOPREMA, etc.
In his speech, Kassym-Jomart Tokayev noted that today the international community is facing complex geopolitical and economic problems. According to him, new challenges open up new opportunities. Difficult times are the best time to build bridges and develop partnerships.
"We want to improve relations with France and Europe as a whole to further advance our common economic and political interests," the President said.
He stressed that Kazakhstan aims to strengthen a free and competitive market economy. The head of state believes that demonopolization will make Kazakhstan stronger, more competitive and more attractive to investors. He expressed readiness to make further necessary changes to the legislation to improve the business climate.
"The first results of this work are already reflected in macroeconomic data. GDP growth for the first 10 months of this year was 2.5%, better than expected. Despite the disruption to existing supply chains, our exports increased by almost 50% ($63.8 billion). In the first six months of 2022, foreign partners have invested about $15 billion in our economy, which is almost 30% more than in the previous year. Over the next 7 years, we plan to attract $150 billion in foreign direct investment. Our investment policy will be constantly improved so that Kazakhstan remains the most attractive place for investment in Central Asia," said Kassym-Jomart Tokayev.
As the Head of State emphasized, France is one of the key economic partners of Kazakhstan.
"In the first nine months of 2022, the trade turnover between Kazakhstan and France increased by 12%. Today, more than 170 French companies are successfully operating in Kazakhstan. The French industry is represented by such big names as Total Energies, Orano, Airbus, Vicat, Air Liquide, Alstom, Saint-Gobain and others. All of them make a significant contribution to the economy of Kazakhstan. I believe that the creation of the Trade Representation of France in Kazakhstan could contribute to building up our cooperation, we will be glad to establish it as soon as possible. I would also like to encourage French companies to explore investment opportunities in our country. I want to assure all those present that Kazakhstan guarantees a safe and stable investment environment," the Head of State emphasized.
Kassym-Jomart Tokayev told the meeting participants in detail about the most promising areas of investment cooperation.
"We are developing our agro-industrial complex. It is planned to increase the volume of its production by 2.5 times and double the volume of our exports. We are encouraging investment in advanced agricultural processing and are inviting French food producers to explore related investment opportunities. We are ready to provide comprehensive support to such projects. Secondly, real sector of the economy, where there is great potential for cooperation. We are ranked 6th in the world in terms of natural resource reserves and 10th in terms of total mineral production (excluding oil and gas). Global demand for critical materials and rare earths elements is expected to quadruple by 2040. The government is ready to provide the necessary support. In turn, we expect companies to bring their best practices and new technologies," the President invited French investors.
Along with this, the leader of Kazakhstan focused on the prospects for cooperation in the energy sector, transport and logistics, and digitalization.
Kassym-Zhomart Tokayev expressed hope that the economic partnership between Kazakhstan and France would continue to diversify and expand in all sectors.
"Today's constructive dialogue provides an opportunity to reaffirm our commitment to promoting business growth and shared prosperity! My administration is ready to provide all the necessary support to French companies to do business in one of the fastest growing economies in the region," the Head of State summed up his speech.
During the meeting, presentations were also made by Yves-Louis Darricarrere, Co-Chairman of the Kazakh-French Business Council, Olivier Bescht, Minister Delegate for Foreign Trade, Economic Attractiveness and French Nationals Abroad, Co-Chairman of the Kazakh-French Intergovernmental Commission, Executive Vice President of Airbus Van Versch, vice president of Thales Marion Parada, president of Vicat Guy Sidos, Senior vice president of Safran Stéphane Rolland, senior vice president of Saint-Gobain Patrick Dupin, president of PCM Mario Martinioni, CEO of Soufflet Group Christophe Passeland, France representative of Boehringer Ingelheim Nigel Swift, business development director of Evolution International Cyril Joss.