More than half a million sturgeon fry released to the Ural River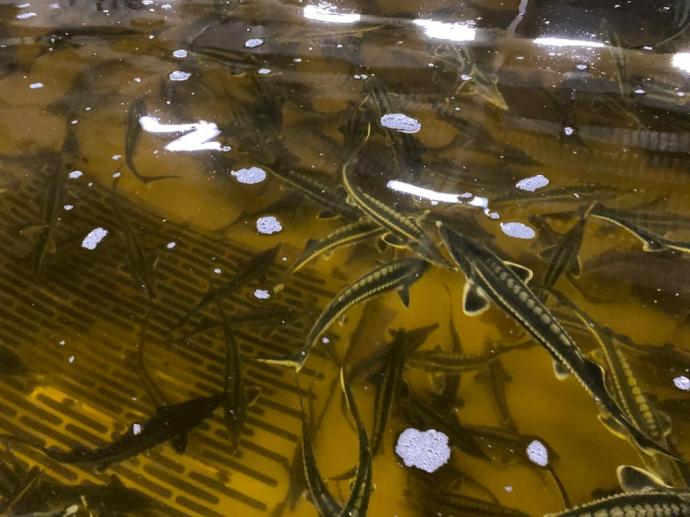 In the West Kazakhstan region, 550 thousand Beluga, sturgeon, sterlet and Caspian thorn fry were released into the Ural river as part of the program for the revival of sturgeon breeds and stocking of the Ural-Caspian basin.
Sturgeon release is carried out by the resources of the "Caspian Sturgeon" Plant (a subsidiary of the Ordabasy Group holding) for the production of black caviar and commercial sturgeon. According to the project initiators, it is the first time in Kazakhstan of the sturgeon release on the businessmen resources in such volumes.
The fish stocking program is covered entirely by "Teniz Service" LLP as part of compensation measures for subsoil users with the scientific support of the "Scientific and Production Center of Fisheries" LLP.
"From funds collected the investors plan to increase the number of parent fish. This will allow for a significant increase in the production of black caviar and premium commercial sturgeon produced in Kazakhstan, and in high demand on the international market. This will have a positive impact on the volume of Kazakhstan's exports of high-quality products to the markets of Europe, Asia and America", - said Saule Sabyr, Project manager of "KAZAKH INVEST" National Company" JSC.
According to experts, the project has confirmed genetic passports of fish breeds used in reproduction. Also, technical and scientific bases with no analogs in Kazakhstan have been created, new developments in the field of fish farming and production activities in the aquaculture sphere were introduced. This made it possible to significantly increase the mass and number of fish. In addition, with the modern technology of closed water supply, antibiotics, hormones and other medications does not use by the Plant in the process of growing fish. This allows obtaining high-quality for final products that are characterized by veterinary safety and meet the strict requirements of foreign markets.
"The use of the world's leading technological developments in the production cycle of the aquaculture sphere is a special feature of this project. The project is a key one in the field of fisheries, attractive for investment and more relevant since it meets the main tasks set by the country's leadership – the development of domestic exports, the revival of the population of rare species and the introduction of lean production. I would like to note the KAZAKH INVEST efforts for timely and comprehensive support to the project in the framework to attract foreign investment and developing the enterprise as a whole", - said Dinmukhamed Baizhanov, the First Deputy Chairman of the Board of Ordabasy Group.
According to investors, the implementation of this project is very important both for the region and for the fish farming sector as a whole, including a positive impact on the revival of the sturgeon population in the Caspian basin and the recognition of Kazakhstan in the world market of black caviar and commercial sturgeon.